Intel is trying to get their new netbook appstore off the ground by providing a challenge or two to indie developers (like sgp). The challenge is, "give us your game by the end of march, and maybe we will give you some money". The mere hope of cash is enough for me to jump on this challenge.
I started a few days ago, with the intention of creating a hybrid of zuma and snake. However, as things progressed, it just turned into a new style of snake game. This game has the basic single player and up to 4 player local head to head.
The idea behind snake is that if you hit anything, you die, and then its game over. However, in this version, if you hit your tail, then the part of your tail that isnt connected to your head, falls off and turns into food again. This gets fun when you have a bunch of people playing, because you can just tool around and chop off your buddys body parts.
But dont let me do all the talking, watch this fancy video to get an idea of what Im talking about.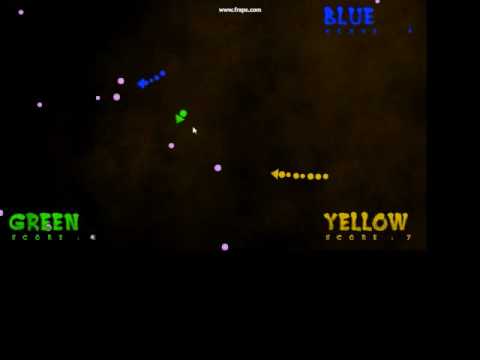 So yea, Snake is back.