There isn't much to say, except that Small Group needs their own engine, an engine that thousands of jealous indie developers will wish to have because it is just so awesome. I am aware that there are already a lot of tools out there to use so as to avoid the creation of an 'engine'. Farseer is a wonderful piece of physics, and I have wondered why I am toiling away writing a custom physics engine when something so fantastic already exists. Re-inventing the wheel seems like a stupid idea. But the key is that even though the wheel has been invented, its not the right size for Small Group.
In writing our own engine, I think we will have a nice little special nitch to work out of. And that's not to say that collaboration is bad or unoriginal, I just want our own set of tools to work with.
But what is an 'engine', really? No one really knows, but we can take a good guess. An 'engine' is a system of tools that you can fit together to make some truly splendid, like cake, or a space ship. The engine usually handles all sorts of components of a game, such as the physics, the core graphics, the lighting techniques, the scripting systems, and a whole bunch of other crap that I wish I didn't have to think about. Pretty much, if you want to make a sweet awesome-tastic video game, you need all these things, and since we are all super busy people, we dont want to spend the time to write these systems ourselves, so we just mosey on over to FarseerPhysics.com, or AwesomeEngine.org and then were set! But, instead of doing that, Small Group is going to get their OWN engine, and it is going to suit our purposes just fine.
So to start with, physics.
Yes, its a daunting word, but it so prevalent in games that there is no avoiding it, and so the first part of writing the Small Engine, is writing a basic physics dynamics simulation. And looky looky, its mostly all done! You can even see in the video below.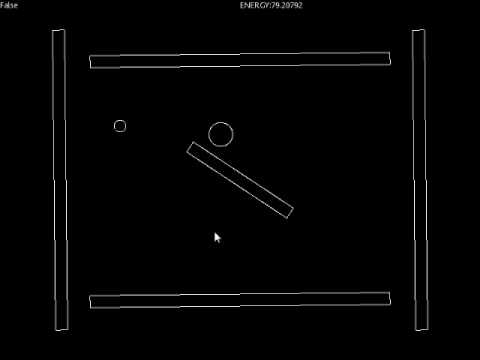 Its still a work in progress, but I think its coming along quite nicely. More on this LATER.
Edit: I feel as though I should say that XNA is a framework for graphics within C# and a stepping stone to the Xbox 360 platform. Its sort of an engine in that way, and I have no intention of re-writing that just because.